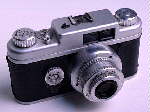 Photo courtesy of Jerry Vincent
Model: 21 (Markfinder)
Production Years: 1947-1952
Description:
50mm F3.5
Curious Camera, having Projected framelines rather than a rangefinder. This is obtained by a high-quality assembly of mask, mirror and semi-silvered mirror. This also provided for a higher-eyepoint, and freedom from eye-position error. The model 21 also provided for automatic shutter-cocking with film advance, as did the C-4 and C-44. A notable achievement in the Argus line. The film ran from left to right, as opposed to the C/C2/C3. Flash synch was provided for "M" and "F" Bulbs, with a selector switch on top. The Lens of the model 21 was removable, allowing for use on enlargers. It also exhibited a hot shoe, coated lens, and shutter speeds from 1/10th to 1/200th, plus "B". Rewind was facilitated by retracting the advance "fork", and rewinding as normal.
Model: C4
Production Years: 1951-1958
Description:
50mm F2.8
Rangefinder version of Model 21.
The rangefinder is coupled to the lens for focusing.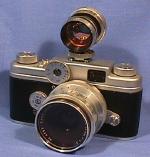 Model: C4 Modified
Production Years: 1951-1958
Description:
C4 modified by Geiss America to accept Lithagon lenses.
In addition to the Cintar 50mm lens, Lithagon 35mm, 45mm, 100mm, and 135mm lenses were also available.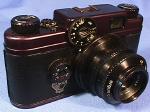 Model:
C4, black finish
Production Years: 19??-19??
Description:
The "Black" C4 may have been a special military version of the C4 but no evidence supporting this theory exists.
Few are known to exist.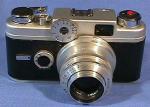 Photo courtesy of Phil Sterritt
Model:
C4R
Production Years: 1958 Only
Description:
50mm F2.8
C4 with Rapid Advance Lever
Accepted CM-2 slip-on coupled light meter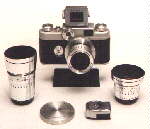 Photo courtesy of Phil Sterritt
Model:
C44
Production Years: 1956-1957
Description:
50mm F2.8 or F1.9
Essentially A C4 designed to accept interchangeable lenses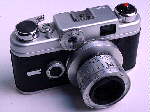 Photo courtesy of Jerry Vincent
Model: C44R
Production Years: 1958-1962
Description:
50mm F2.8 or F1.9
Essentially an C44 with Rapid Advance Lever
Accepted CM-2 slip-on coupled light meter